Devil weed identified for me, July 7, 2015
My Original data:
New to this region around 2002, Everywhere the government projects seed the highways, parks and greeways... now has the prolific spreading plant. It has taken over most of the wooded areas. Greenway flood plains are quite beautiful in the deep woods. It looks like a green carpet all through the thicket.
Woody stems, puts out root shoots every few inches. In the fall, it has a pink-purple flower about 3 mm shaped like a camelia. Flower is only one per stem... last leaf cluster. I'll get picture this Fall.
Click images to see full resolution image 1600 px wide
Upper Neuse River Gereenway,June 22, 2015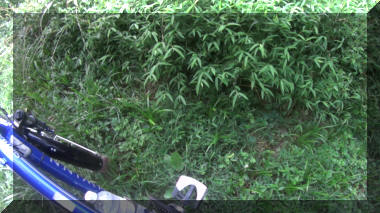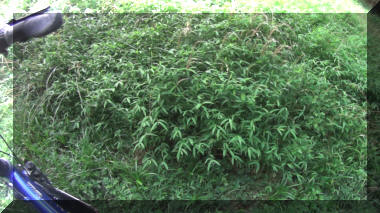 6:45 AM and 76º is a nice ride, but lighting is not ideal due to low sun angle
Wind noise from sound ports diminshes as I slow down after crossing US Highway one overpass. The weed does make for a very attractive flood plain and woods. Of course it's not the only weeds.